Gifts for Teens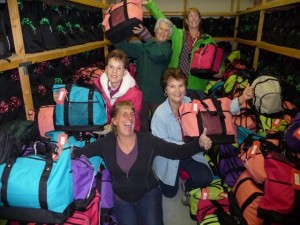 Since 1997, the Gifts for Teens project provides community support and help to homeless and low-income San Jose teenagers. About 1,300 sturdy duffels and totes are stuffed with fun and practical gifts and distributed at holiday time to teens living in poverty who are often overlooked by local youth charity programs. These teens are served by Home First, the Bill Wilson Center, Unity Care Group and Sacred Heart Community Service. All Gifts for Teens staff and helpers are community volunteers, and all gift items are donated or purchased. Check the GFT website www.gifts4teens.org for information and details on how to get involved in this worthwhile project, or contact AAUW San Jose member Elaine Benoit.
Neighbors Helping Neighbors
Members collaborate with local agencies and community groups to provide hands-on help for the homeless and working poor in our community, making a difference in the lives of those whose basic needs for food, clothing and shelter are not being met. Projects have included food sorting for Second Harvest, blanket making for Project Linus, providing cleaning supplies and dinners at the Family Supportive Housing, school backpacks for Warm Hearts at Santa Maria Urban Ministry, and lunches for homeless women at Lifted Spirits drop-in center, and donating and sorting clothing at The Grateful Garment Project.