Financially Fit for Life
Financially Fit for Life (FFFL) provides women and girls with the knowledge, skills, and confidence to be just that — financially fit for life.  This past year we worked with Charles Schwab, Los Gatos, to offer an in-depth series of workshops "The Road to Financial Independence."  We also present a workshop to give college students the tools and information they need to pay for their college education and minimize student debt. In addition, we take programs to the larger community such as Family Supportive Housing and group homes.  Our purpose is to serve others but, in the process, we gain a great deal of knowledge ourselves.
Tech Trek
Tech Trek is a one-week STEM (Science, Technology, Engineering, Math) summer camp designed to develop interest, excitement, and self-confidence in young women who will enter eighth grade in the fall. It features hands-on activities in math, science, and related fields. All sleeping, eating, instructional, and recreational facilities are located on a university campus. All girls attend Tech Trek camps on scholarships provided by AAUW California branch members, working with participating middle schools in their area.
At Tech Trek, girls are immersed in a world that empowers and encourages them to think about themselves as future doctors, scientists, engineers, mathematicians, and computer programmers. For volunteer opportunities and donation information, read more here.
Local Scholarship Committee
AAUW San Jose awards scholarships each year to women working to finish a four-year degree. This project contributes to the advancement of women in their pursuit of higher education. Watch this site in March for application information.
Since 1980, AAUW San Jose has awarded over $215,000 to 160 young women. In 2014, a total of $30,000 was awarded. AAUW San Jose members support scholarship funds through grant writing, monetary donations and a November holiday boutique. In 2015, Local Scholarship elected to establish the Edie Kerr Memorial Scholarship in honor of Edie's lifelong commitment to higher education and improving the lives of women and girls. Read more >>
Eligibility for the scholarships is determined by:
Permanent home address in Campbell, San Jose, Milpitas or Santa Clara
2 full years at an accredited college or university
Minimum of a 3.0 GPA
Enrollment in a 4-year institution as an undergraduate
Recipients tell us that our support and faith in them made a significant difference in their ability and desire to finish college.

Gifts for Teens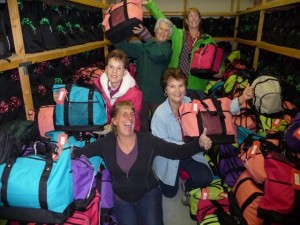 Since 1997, the Gifts for Teens project provides community support and help to homeless and low-income San Jose teenagers. About 1,300 sturdy duffels and totes are stuffed with fun and practical gifts and distributed at holiday time to teens living in poverty who are often overlooked by local youth charity programs. These teens are served by Home First, the Bill Wilson Center, Unity Care Group and Sacred Heart Community Service. All Gifts for Teens staff and helpers are community volunteers, and all gift items are donated or purchased. Check the GFT website www.gifts4teens.org for information and details on how to get involved in this worthwhile project, or contact AAUW San Jose member Elaine Benoit.
Neighbors Helping Neighbors
Members collaborate with local agencies and community groups to provide hands-on help for the homeless and working poor in our community, making a difference in the lives of those whose basic needs for food, clothing and shelter are not being met. Projects have included food sorts for Second Harvest, blanket making for Project Linus, bingo at Julian Street Inn, providing cleaning supplies and dinners at the Family Supportive Housing, the holiday boutique at Next Door Solutions to Domestic Violence, school backpacks for Warm Hearts at Santa Maria Urban Ministry, and donating and sorting clothing at The Grateful Garment Project.