What is the Gifts for Teens project?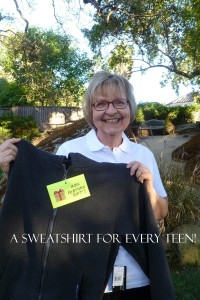 Gifts for Teens collects fun and useful teen oriented items, adding these gifts to ample totes for teenage girls and sturdy duffels for guys. These festive bags are distributed at holiday time to impoverished teenagers living in downtown San Jose, including members of low-income families, teens in group homes and homeless and runaway teens.
Why is Gifts for Teens important?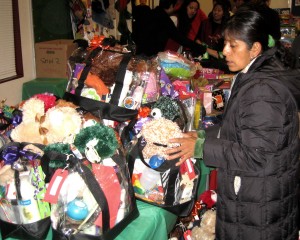 Many families living below the poverty line find that they must spend precious dollars on necessities, skipping extras and gifts at holiday time. While organizations collect toys and gifts for younger children, donations for teens are scarce. Helping parents to give to their teens strengthens family ties and demonstrates to teens that a caring community supports them. Gifts for Teens bags brighten lives for many South Bay youth!
Who is served by Gifts for Teens?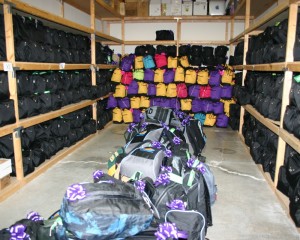 Needy teenagers, some of whom live on the streets, received the 1500 gift bags last year. The teenagers are Sacred Heart Community Service family members, homeless youth helped by Bill Wilson Center, street kids served by HomeFirst, and teens living in group homes run by Unity Care Group and Advent Group.
What is in the bags?

The teens love the bag contents, and can use the practical duffels, totes and backpacks all year! Contents: sweatshirts, t-shirts, store gift certificates, blankets, new shoes certificates, hygiene supplies, cosmetics, apparel, snacks, games, journals and more are included in each bag.
Who makes the Gifts for Teens project happen?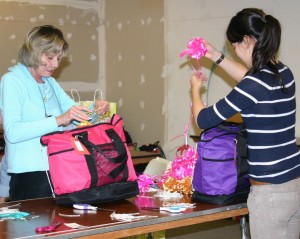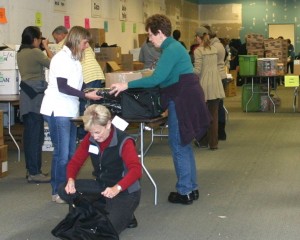 Over 580 volunteers from the community and AAUW-San Jose Branch members are involved in every aspect of collecting, assembling and distributing these exciting gift bags. All workers and staff volunteer their time and many thousands of gift items are donated. December bag assembly is a popular and fun done-in-a-day volunteer activity. To volunteer contact, www.gifts4teens.org.
How financially efficient is the project?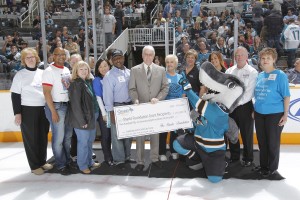 98% of cash donated goes directly to the teenagers. Thousands of new donated items fill the ample bags with fun teen gifts! Area businesses, church groups, local schools, generous individuals, and grants from San Jose Shark's, Mellanox, Xilinx, Star One Credit, Farrington Foundation, Trombetta Foundation, Kohl's, Citrix, Cisco, Almaden Women's Club and Almaden Singles Group donate the much appreciated income. The GFT budget exceeds $215,000.
How can I help?
Donate gift items directly: www.gifts4teens.org Donate excess corporate promotional items!
Send a tax deductable cash donation to Gifts for Teens, ISPF-AAUW of Santa Clara County, 501(c)(3), #77-0201841, and mail to 1165 Minnesota Ave. San Jose, CA 95125 or use PayPal.
Corporate matching gifts for Gifts for Teens are sent to Sacred Heart Community Service, note: "Restricted for Gifts for Teens", IRS # 23-7179787. www.sacredheartcs.org
Contact Elaine Benoit at elaine@gifts4teens.org for more information.