AAUW San Jose Branch programs provide information that empowers women to make knowledge-based decisions about their daily lives and informs members about issues and initiatives affecting women and their families.
Current and most recent events and programs are listed on our home page.
Community Awareness of Financial Fraud
March 15, 2-3:30 pm
1165 Minnesota Ave., SJ (next to Willow Glen Library)
If you have access to a computer, smartphone, or landline, you can learn how to protect your personal information if you become a victim. A representative from the FBI will present for 45 minutes with 15 minutes for questions and answers. Topics include:
a review of red flags

common scams
fraud/elder fraud
If a victim, what you can do
Financial crimes (internet/pandemic)
Complaints
We have scheduled this presentation as an in-person event. Masks are welcome but not required.
---
A Window to the World: Liberia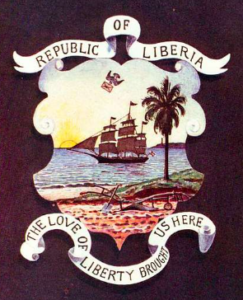 Monday, Feb 20th,  9:30  am
Zoom or Hybrid at HQ
This year, the Exploring World Literature interest group is reading books about and by famous women.  January's subject is Ellen Johnson Sirleaf, a Nobel Peace Prize recipient and the first female president of Liberia, just after a civil war. Also joining us will be member Diane Trombetta, who lived in Liberia as a teenager, and whose essay is included in a new book called, "Never the Same Again: Life, Service and Friendship in Liberia."  We invite members who don't belong to this interest group to join us on Monday January 16th at 9:30 am either on Zoom or at AAUW HQ.
---
Annual Fall Gathering, Saturday, October 29, 10 am – noon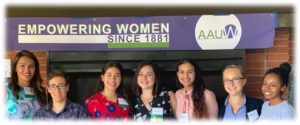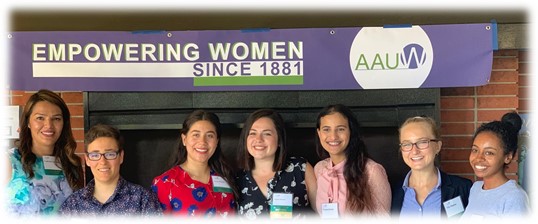 Willow Glen United Methodist Church Hall
Corner of Minnesota and Newport (across from AAUW San Jose)
Each Fall, AAUW San Jose kicks off its year of activities with a Fall Gathering, showcasing our various interest groups, highlighting accomplishments of our Community Action Projects and presenting a topic of current interest.
Ever struggle to understand the implications of a 'Yes' or 'No' vote on California's ballot propositions? This year, our Public Policy Committee presented their 'Proposition Exposition'–a non-partisan short-and-sweet review of the seven propositions on the November 8 ballot, who's supporting each side, and where the money behind them was coming from.  many friends came to this ever-popular event!  Masks were optional, but welcome. Refreshments were outside, the event was inside.
---
Getting Ready to Vote!



The Public Policy Committee provided a presentation via Zoom to assist in understanding often-confusing California ballot propositions on Thursday, October 1, 2020, and to learn about the propositions and enable the participants to be better prepared for voting. The Public Policy Committee did the time-consuming work of researching California ballot propositions ahead of the November election. For each of the dozen State propositions on the 2020 ballot, participants learned a brief summary of:
  * The arguments for and against
  * Where the money for each was coming from
  * Were any of the propositions endorsed by AAUW California?
At the 2022 Fall Gathering, the Public Policy Committee will again present on the November ballot propositions.
---
Showing Up for Racial Justice (SURJ)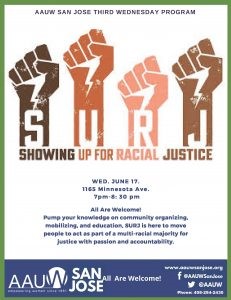 The San Jose chapter of Showing Up for Racial Justice (SURJ) is leading White Privilege Workshops for organizations within our community.  SURJ is a national network of chapters, affiliates, and individuals working to undermine white supremacy, and moving people and systems toward racial justice.
Through community organizing, mobilizing, and education, SURJ moves white people to act as part of a multi-racial majority for justice with passion and accountability. These sessions are designed to introduce attendees to the concept of white privilege and how it impacts our nation, community, and our own lives. The workshop engaged us in guiding reflection and discussion to explore the role of white privilege and white supremacy in our own lives.
How Humane Society Silicon Valley Helps You Plan for Your Future
As women who have successfully planned your lives, do you have a plan for your pets? Do you know how your passion for helping animals can be satisfied for decades to come? Humane Society Silicon Valley (HSSV) is redefining today's animal shelter, especially now that more and more women are pursuing animal medicine as a career.
Through the HSSV Pet Guardianship Program, you can enjoy the peace of mind of knowing you have a plan (or a Plan B) for your pet's future. And through their new legacy Endowment Program, you can plan a gift in the future that enables you to rescue, rehabilitate, and find loving homes for animals in your community long past your lifetime.
USElessPLASTIC: Rethinking Recycling
Did you know we are dumping a garbage truck's worth of plastic waste into our oceans every single minute? Added to that, our feeble recycling systems have finally broken, leading US states to pile up, landfill, or burn plastic "recyclables." But it doesn't have to be that way!  USElessPLASTIC examines the scope and reach of the single-use plastics crisis and examines what we can learn from the past, from other cultures, and from the zero waste movement, and learn how to make easy changes to phase out single-use plastic in your world.
This inspirational program was presented by Rachelle Grabowski, a neighbor who is a plastics educator and zero waste advocate. For additional background, the 2016 documentary "Plastic China" by filmmaker Jiu-liang Wang was presented, which illustrates the lives of those who scrape by, sorting plastic waste.
Sexual Orientation and Gender Identity Training
Ever wonder what LGBTQQI means? Or what is intersex? Why is gender identity important? Ellyn Bloomfeld provided training to review the various terminology we hear every day. A Q&A session followed the training.

Red Flags and Legislation – Be Informed to Disrupt Human Trafficking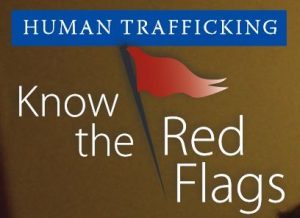 Eight students from the Mitty Advocacy Project (MAP) introduced their group activities and presented information about human trafficking including definitions, facts and pending state and federal legislation. They encouraged phone calls and visits to legislators and took questions from audience. National Human Trafficking Hotline: 1-888-373-7888 (TTY: 711); Text 233733
---
Sexual Harassment of Low Wage Workers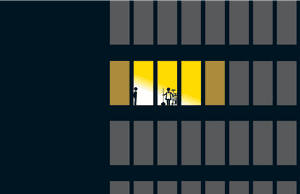 After watching the PBS documentary "Rape on the Night Shift", Maria Gonzalez, a janitorial worker spoke movingly with translation by Rebeca Armendariz of YaBasta! Coalition, of her experience as a sexual assault survivor motivated to become an advocate. Rebeca described work by the SEIU-WW union. Ruth Silver-Taube, attorney and professor at Santa Clara University, explained shocking issues in restaurant, agricultural and janitorial fields and reviewed pending legislation. Attendees completed postcards supporting pending legislation.
---
Health Check-Up For Earth/Climate Change – How It Effects Women and Girls … and You!
Member Elizabeth Guimarin, who has an MS in Soil Science, helped us join the celebration of Earth Day. Her passion is for how healthy soils can combat climate change and her message is energizing and encouraging. She shared specifics on how women & girls are negatively impacted, and illustrated how climate balance is the key to taking care of the earth through adoption of climate smart (regenerative) agriculture, so that earth can take care of us.
---
Historic Bay Area Visionaries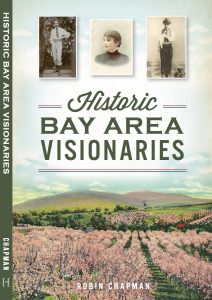 Author Robin Chapman gave an engaging summary of her book, illustrated by slides, which tells the story of our state through the eyes of Lope Inigo, an indigenous man; Juana Briones, a compassionate businesswoman; Robert Louis Stevenson, the poet and writer; Sarah Winchester, the heiress to the rifle fortune; Thomas Foon Chew, a Chinese immigrant; and Charlie Chaplin, who came to Niles in 1914 and became a movie star. Each one faced roadblocks and trials as California transformed itself from the almost-inaccessible land of its ancient people to a colony of Spain, a territory of Mexico, a Gold Rush outpost, and finally to the 31st state of the United States of America.
Robin was the recipient of an AAUW scholarship from the Los Altos/Mountain View Branch.
---
Barriers to Education: Why Girls Drop Out
Attendees learned how sexual harassment can interrupt a student's education. Maha Ibrahim of Equal Rights Advocates presented research showing how harassment can get girls off track. A panel of local experts shared their experience with the impact of harassment at middle school, high school and college levels. A safe learning environment is a core part of Title IX protections. The importance of increasing awareness in the community-at-large was emphasized, including to parents, guardians, and neighbors. We each have a role to ensure that Title IX is upheld to advances equity in education for all. Hosted by AAUW San Jose, the event was held on February 10, 2019 on the San Jose City College campus.