---
Local Scholarship Applications Available on March 1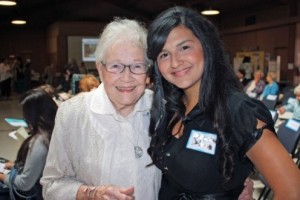 AAUW San Jose Local Scholarship awards are granted to women whose permanent home address is in Campbell, Milpitas, San Jose or Santa Clara; who have completed two full years at an accredited college or university; who have a GPA of 3.0 or higher; and who will be enrolled in a four-year institution as an undergraduate in the fall of 2019. Applications for 2019 Local Scholarship awards will be available on this website as of March 1 and accepted beginning at 12:01 a.m. March 1 and ending at 11:59 p.m. April 15.
Grants are based on significance of educational goals, scholastic achievements, merits of the application and an interview with members of the Local Scholarship Committee. Please encourage friends and family members who meet the eligibility requirements to apply. Any questions should be directed to Margaret Bard.
---
Third Wednesday Program
California's Story Through the Eyes of Its Earliest Visionaries
March 20 at 7 pm

AAUW San Jose Headquarters
Los Altos journalist Robin Chapman, who was the recipient of an AAUW scholarship from the Los Altos/Mountain View Branch, will share the stories of six people from Bay Area history from her new book "Historic Bay Area Visionaries." It tells the story of our state through the eyes of Lope Inigo, an indigenous man; Juana Briones, a compassionate businesswoman; Robert Louis Stevenson, the poet and writer; Sarah Winchester, the heiress to the rifle fortune; Thomas Foon Chew, a Chinese immigrant; and Charlie Chaplin, who came to Niles in 1914 and became a movie star. Don't miss this chance to learn a bit about California history and how to find it today in our own backyard.
---
Leadership Conference Opportunity Available for College Women
AAUW San Jose will be awarding two full scholarships for the National Conference for College Women Student Leaders (NCCWSL) which takes place May 29 – June 1, 2019.  For more details about this conference, visit www.nccwsl.org.  Scholarship applicants are required to be permanent residents of Campbell, Milpitas, San Jose or Santa Clara and currently enrolled in an accredited college or university with a 2.0 GPA. For more scholarship details, contact AAUW San Jose College/University Relations at curelations@aauwsanjose.org.
---
Women Making a Difference >>> Take Action on Public Policy
---
Like and follow us on Facebook!