---
Advancing gender equity for women and girls through research, education, and advocacy.
Through AAUW San Jose you will be able to

Support equity and education for women and girls

Advocate for societal change

Connect with your community
Create new friendships through interest groups
---
AAUW does not sanction in-person meetings at this time nor for the foreseeable future. AAUW's guidance is in adherence with California mandates and in the best interests of all members. Watch this page for information about upcoming virtual Branch and other events.
Santa Clara County, through the Emergency Operations Center, is taking action to address novel Coronavirus, protect the public, and keep the community informed. For further updates, please see https://www.sccgov.org/sites/covid19/Pages/home.aspx
Stay safe and well.
---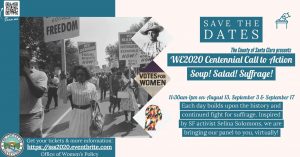 Soup, Salad, and Suffrage Events
Sponsored by Santa Clara County Office of Women's Policy
August 13, September 3 and September 17 – 11:30 am to 1 pm
Bring your own soup and salad — suffrage will be provided! Different keynote speakers will be featured at these virtual events: Thursday, August 13 – Foundation and Education: the Significance and Importance of Constitutional Amendments; Thursday, Sept 3 – Call to Action; Thursday, Sept. 17 – Mobilization.
For tickets, see OWC Soup Salad and Suffrage Events
---
AAUW SAN JOSE FALL GATHERING AND KICK-OFF
Saturday, September 26
10 – 11:30 am
Online Event – Register for Tickets on Eventbrite
Join us online to hear Climate Justice Leader Dr. Tracy Osborne enlighten us as to how climate changes affect women and girls. , will highlight climate justice and the stories of its effect on women and girls. Her research on the social, political and economic dimensions of climate change mitigation informs global environmental governance, and climate equity and justice debates. She also leads the Climate Alliance Mapping Project, a collaborative effort between academics, environmental non-governmental organizations, and Indigenous organizations working for a socially-just response to climate change through research, maps and digital stories.This year you must register to attend. We need our members, members' friends, scholarship recipients, student members and prospective new members to register for this event via Eventbrite. Information for the Zoom-powered Fall Gathering will be provided to you. We will have much of our usual program, followed by 50-year member recognition and "thank you" videos from Local Scholarship recipients.Grab your coffee and your muffin and come connect with us!
---
Public Policy Committee Presents "Getting Ready to Vote!"
October 1 – 7 pm via Zoom
Let us help you understand those often-confusing ballot propositions on Thursday, October 1 at 7 pm. You won't have your ballot in hand just yet, but you can learn about the propositions and be better prepared. The Public Policy committee will help with the time-consuming work of researching California ballot propositions ahead of the November election. For each of the dozen State propositions facing you on this year's ballot, you will learn a brief summary of:
  * What are the arguments for and against?
  * Where's the money coming from?
  * Has AAUW California endorsed this proposition?
We'll be on Zoom, presenting for 5 minutes each on the 12 State propositions. We will start promptly at 7 pm, so please join a few minutes early to settle in. We have limited volunteer staffing so we may not be able to accommodate all late-comers.
To let us know if you plan to attend or have any questions, please contact Susan Karlins.
---
Women's Suffrage 2020 Centennial Commemoration Call to Action
August, 26, 2020 marked the 100th anniversary of the passage of the 19th Amendment, where women took their rightful place in the voting booth. The Santa Clara County Board of Supervisors approved a resolution establishing the Woman's Equality 2020 Leadership Council. The first county-wide task force met November 14, 2018, where over 40 leaders from the community began an introductory session to plan what a centennial celebration would look like. 
For more information about the council and a schedule of upcoming meetings, see the link on the Santa Clara County Office of Women's Policy website: Woman's Equality 2020 Leadership Council. You can also check our BONFIRE newsletter for updates from our AAUW San Jose member on the Council, Sharon Bouska.
Do you know your rights in the workplace in California? Here's a handy guide to help you navigate them.
---
Women Making a Difference >>> Take Action on Public Policy

Like and follow us here!