---
Advancing gender equity for women and girls through research, education, and advocacy.
Through AAUW San Jose you will be able to

Support equity and education for women and girls

Advocate for societal change

Connect with your community

Create new friendships through interest groups
---
Third Wednesday Program
April 17
7 pm to 8:30 pm

AAUW Headquarters
Health Check-Up for Earth
Each year, Earth Day, April 22, marks the anniversary of the birth of the modern environmental movement in 1970. A bi-partisan group tapped the emerging public consciousness about air and water pollution and forced environmental protection onto the national political agenda. The first Earth Day led to the creation of the United States Environmental Protection Agency and the passage of the Clean Air, Clean Water, and Endangered Species Acts.
Today the focus has moved to global warming. In fact, Earth Day is the largest secular observance in the world, celebrated by more than a billion people every year, and a day of action that changes human behavior and provokes policy changes. Branch Member Elizabeth Guimarin will share actions that we can use as we celebrate Earth Day locally.
Global warming tells us we need to pay more attention to the health of our Earth. We will look at key cycles of the Earth, the influence on land and ocean, and its connection to our food and health. We will show how, if we are regenerating the health of the Earth, then the land, food, and human health are all improved, too. It's time we think about what we can do to keep our Earth healthy.
---

Prospective Member Open House
10 am – noon
AAUW San Jose Headquarters
Learn more about AAUW and our Branch and enjoy light refreshments.
Save the Date: New Member Chat and Coffee, May 18 from 10 am- 12 pm.  For more information, contact the Membership Committee.
---
Local Scholarship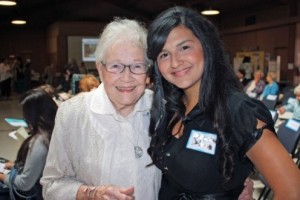 AAUW San Jose Local Scholarship awards are granted to women whose permanent home address is in Campbell, Milpitas, San Jose or Santa Clara; who have completed two full years at an accredited college or university; who have a GPA of 3.0 or higher; and who will be enrolled in a four-year institution as an undergraduate in the fall of 2019. Applications for 2019 Local Scholarship awards will be accepted until 11:59 p.m. on April 15, 2019.
Grants are based on significance of educational goals, scholastic achievements, merits of the application and an interview with members of the Local Scholarship Committee. Please encourage friends and family members who meet the eligibility requirements to apply. Any questions should be directed to Margaret Bard.
Women's Suffrage Centennial Celebration
August, 26, 2020 will mark the 100th anniversary of the passage of the 19th Amendment, where women took their rightful place in the voting booth. The Santa Clara County Board of Supervisors approved a resolution establishing the Woman's Equality 2020 Leadership Council, of which Sharon Bouska from our Branch is a member. The first county-wide task force met November 14, 2018, where over 40 leaders from the community began an introductory session to plan what a centennial celebration would look like. For more about the council and a schedule of upcoming meetings, see the link on the Santa Clara County Office of Women's Policy website: Woman's Equality 2020 Leadership Council. You can also check our BONFIRE newsletter for updates from our AAUW San Jose member on the Council, Sharon Bouska.
---
Women Making a Difference >>> Take Action on Public Policy

Like and follow us here!