---
AAUW San Jose Takes to the Streets at the Bay Area Women's March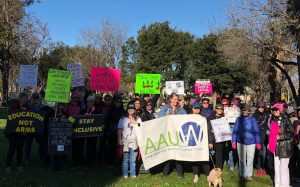 On January 20, more than 50 members of AAUW San Jose marched to support women and girls, along with families, friends and members of several local AAUW branches, and at least 25,000 other allies! At our table in "Action Alley," we passed out hundreds of bright green AAUW San Jose wristbands, flyers for our Human Trafficking Awareness and Make Your Voice Heard workshops, information about AAUW's scholarships and answered many inquiries about our local programs and interest groups. Public Policy members have maintained and cultivated contacts from last year's Women's March, leading to increased awareness of AAUW's mission and the San Jose branch. Thanks to the volunteers who shared the work — you are our (s)heroes!
---
Prospective Member Open House
March 16 – 6 pm
AAUW San Jose Headquarters
Our February Open House was so successful, we're doing it again! Do you know someone who wants to join AAUW San Jose? Invite her to the Open House! This is a great opportunity to learn more about what the Branch does and how a newcomer can get involved. Light refreshments will be served during a get-acquainted time. Leaders from our Community Action Projects as well as our Interest Groups chairs will be on hand to talk briefly about what they do. Plenty of time will be allocated for questions and answers. RSVP to membership@aauwsanjose.org.
---
Third Wednesday Program
March 21
Film "Rape on the Night Shift" – 5:30 pm
Presentation by Ruth Silver Taube – "Sexual Harassment of Low Wage Workers" – 7 pm
AAUW San Jose Headquarters

As the #MeToo movement sweeps across Hollywood, Washington and the world of media, it's easy to ignore the sexual abuse of women in low-profile jobs. Sexual harassment is prevalent in all industries that employ low wage workers. Following the showing of the film, the presentation by Ruth Silver Taube will cover legal issues related to sexual harassment of these workers, with emphasis on the restaurant, agricultural and janitorial industries. She will also present actions that we can take to increase awareness and advance legislation to protect women. Ms. Taube received the Unsung Hero Award from the Santa Clara County Victim Support Network in 2013 for her workers' rights and human trafficking work.  She is the Supervising Attorney of the Worker's Rights Clinic at the Katharine & George Alexander Community Law Center at Santa Clara University School of Law, Special Counsel to Legal Aid at Work, and an Adjunct Professor at Santa Clara University School of Law.
This event is open to all Branch members. An Eventbrite has also been created for non-AAUW members to attend by ordering (free) tickets.
---

The Wildflower Run is the annual fundraiser for the AAUW Morgan Hill branch. All proceeds fund scholarships and programs supporting equity and education for women and girls. The Run starts at Live Oak High School in Morgan Hill at 9 am. See the Wildflower Run website for more information and details on registration.
---
Women in Action >>> Take Action on Public Policy
---
Imagine a community with endless possibilities for speaking up for women and girls! Participate in Community Action Projects … Amplify your voice by joining a large, well-organized group of advocates for Pay Equity, for equity in STEM, and for election of more women to public office … Protect access to reproductive health including reproductive choice, and help achieve safety on school campuses … Discover how to negotiate salaries through Start Smart and Work Smart … Help organize the Strong Women Leadership Conference and empower local college women … Explore Interest Groups … Attend inspiring and educational Programs …  Enjoy Open House events and New Member Socials throughout the year … Join and make a difference!