AAUW is a nonpartisan, nonprofit organization. AAUW's Public Policy Program, updated every two years, identifies the social, educational, health and public policy priorities of the organization. After approval by the entire membership, this Program becomes the framework for AAUW advocacy at the local, state and national levels.
AAUW San Jose Public Policy Committee
The Public Policy Committee advances equity for women and girls through an active program of advocacy that engages all Branch members in every level of the political process. Collaboration with other community organizations increases our effectiveness.
Legislative advocacy with AAUW CA
Legislator Visits with local Lawmakers
Voter registration drives
Voter education forums
Programs to inform members and the community
AAUW San Jose Title IX/Sports Equity Group



AAUW strongly supports Title IX and opposes any efforts that would weaken its effectiveness or undermine its enforcement. Title IX has made it possible for girls and women to be educated in, and prepared for, careers in athletics, law, medicine, science, and many other fields of interest. Sports Equity partners with the Bay Area Women's Sports Initiative (BAWSI). The BITS program encourages women to "Be In The Seats" at local women's and girl's sporting events as a visible demonstration of support for and interest in sports. Athletics are promoted as a way to enhance all aspects of the lives of girls and women.
AAUW National and AAUW CA State Issues
Become a Two-Minute Activist.
Gain instant access to your legislators and become an effective citizen-lobbyist by joining AAUW's Two-Minute Activist Network!
Legal Advocacy Fund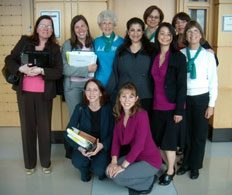 Nationally, with local Branch support, the AAUW Legal Advocacy Fund (LAF) works to combat sex discrimination in higher education and the workplace. Each year AAUW San Jose presents a program focused on an issue highlighted by this fund's research. In 2013, Elizabeth Kristen, Director of the Gender Equity Program and senior staff attorney at the Legal Aid Society Employment Law Center in San Francisco spoke about the LAF efforts of AAUW.
LAF initiatives include community and campus outreach programs, a resource library and online advocacy tools, a Legal Referral Network, and various research reports. LAF also provides support to workplace sex discrimination cases that have the potential to make a difference for all women.
The Legal Advocacy Fund (LAF) supported plaintiffs and their legal team for the case Mansourian, et al. v. Regents of the University of California, et al. The case settled in favor of the plaintiffs in February 2012.
AAUW has sponsored a wide variety of research reports to highlight the needs of women and girls, for example: