---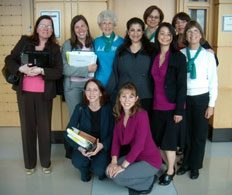 Nationally, with local Branch support, the AAUW Legal Advocacy Fund (LAF) works to combat sex discrimination in higher education and the workplace. Each year AAUW San Jose presents a program focused on an issue highlighted by this fund's research. In 2013, Elizabeth Kristen, Director of the Gender Equity Program and senior staff attorney at the Legal Aid Society Employment Law Center in San Francisco spoke about the LAF efforts of AAUW.
LAF initiatives include community and campus outreach programs, a resource library and online advocacy tools, a Legal Referral Network, and various research reports. LAF also provides support to workplace sex discrimination cases that have the potential to make a difference for all women.
The Legal Advocacy Fund (LAF) supported plaintiffs and their legal team for the case Mansourian, et al. v. Regents of the University of California, et al. The case settled in favor of the plaintiffs in February 2012.
AAUW has sponsored a wide variety of research reports to highlight the needs of women and girls, for example: