A high priority for AAUW is encouraging education for women and girls. AAUW San Jose is committed to many programs; to offer local scholarships, educate branch members about financial issues, send local girls to a science camp, and partner with local community colleges and colleges/universities as well as participating in the AAUW National Fellowship and Grant Programs.
---
Local Scholarship
AAUW San Jose proudly supports hard-working women in completing a four-year degree —leading to wider career opportunities, future professional success, and greater economic stability. 
College costs have doubled in the past generation, while income has risen only 14%.
Women graduate owing over $31,000 in student debt, compared to several thousand less owed by men.
Women take 2 1/2 years longer than men to repay student loans, due to the wage gap.
Only 3.3% of nonprofit organizations focus on women and girls.
The scholarships are funded through grant writing, monetary donations, and an annual fundraising event called 'Give the Gift of Education.'
Read more about our scholarship opportunities here.
The application period for 2023 Local Scholarships will open March 1, 2023 and close on April 15, 2023.  No more applications will be accepted after April 15, 2023. For more information, click here: Local Scholarship Information.
---
College/University Relations Committee (C/U)
AAUW encourages branches to connect with local colleges and universities by recruiting them as college/university partners.  All undergraduates on those campuses are eligible for a free "e-student-affiliate" membership in AAUW. In addition, the San Jose Branch offers free local membership to students from non-partner colleges and universities.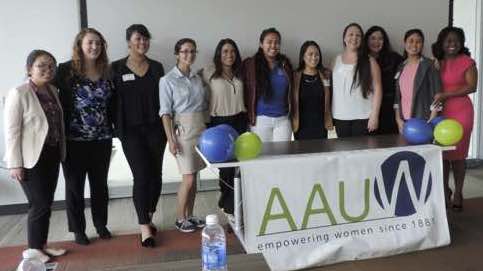 Students benefit from workshops such as Start Smart (how to negotiate your salary), which have been taught at San Jose State University, San Jose City College, Evergreen Valley College and Santa Clara University. They also benefit from Campus Project Grants and scholarships to attend the National Conference for College Women Student Leaders (NCCWSL). The Branch's C/U Relations Committee helps to organize AAUW-sponsored campus workshops, facilitates delivery of AAUW resources and opportunities to its local campus partners. The C/U Relations Committee also encourages participation of students, faculty, and staff in mission-focused activities organized by the Branch. Our current C/U partners are San Jose State University, Evergreen Valley College, San Jose City College and Santa Clara University.
---
Tech Trek
Tech Trek is a one-week STEM (Science, Technology, Engineering, Math) summer camp designed to develop interest, excitement, and self-confidence in young women who will enter eighth grade in the fall. It features hands-on activities in math, science, and related fields. All sleeping, eating, instructional, and recreational facilities are located on a university campus. All girls attend Tech Trek camps on scholarships provided by AAUW California branch members, working with participating middle schools in their area.
At Tech Trek, girls are immersed in a world that empowers and encourages them to think about themselves as future doctors, scientists, engineers, mathematicians, and computer programmers. For volunteer opportunities and donation information, read more here.
---
Financially Fit for Life and Work Smart Salary Negotiation Training
Financially Fit for Life (FFFL) provides women and girls with the knowledge, skills, and confidence to be just that — financially fit for life.  This past year we worked with Charles Schwab, Los Gatos, to offer an in-depth series of workshops "The Road to Financial Independence."  We also present a workshop to give college students the tools and information they need to pay for their college education and minimize student debt. In addition, we take programs to the larger community such as Family Supportive Housing and group homes.  Our purpose is to serve others but, in the process, we gain a great deal of knowledge ourselves.
Click here to access AAUW's free online educational app for salary negotiation, Work Smart.

---
AAUW National Fellowships and Grants
AAUW San Jose is proud to participate in the AAUW National Fellowship and Grant programs. One of the world's largest sources of funding for graduate women, AAUW provided almost $5 million in funding for more than 260 fellowships and grants to outstanding women and nonprofit organizations in the 2020-21 academic year. Since 1888, AAUW has awarded more than $100 million in grants and fellowships to 13,000 women from 130 countries around the world.
Fellowship and grant recipients perform research in a wide range of disciplines and work to improve their schools and communities. Their intellect, dedication, imagination, and effort promise to forge new paths in scholarship, improve the quality of life for all, and tackle the educational and social barriers facing women in the United States and around the globe.
To learn more and see how to apply, go to AAUW Educational Funding and Awards.