A high priority for AAUW is encouraging education for women and girls. AAUW San Jose is committed to offering local scholarships, partnering with other state branches, and participating in the AAUW National fellowship and grant programs.
Local education-related Community Action Projects also include Financially Fit for Life and Tech Trek.
Local Scholarship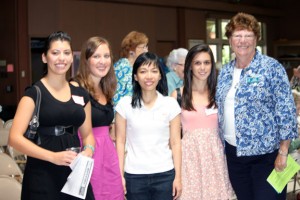 The Local Scholarship Committee recruits, screens, and awards scholarships to women who have completed two full years at an accredited college or university and are enrolled in a four-year institution for the next fall semester.
These awards support the advancement of women in their pursuit of higher education. Candidates eligible for our Branch's awards must have a permanent home address in Campbell, Milpitas, San Jose, or Santa Clara. A minimum 3.00 GPA is also required. Funds for the scholarships are from donations and the annual Holiday Boutique, which is held in November every year. Watch this site in March for application information.
College-University Relations Committee (C/U)
AAUW encourages branches to connect with local colleges and universities by recruiting them as college/university partners.  All undergraduates on those campuses are eligible for a free "e-student-affiliate" membership in AAUW.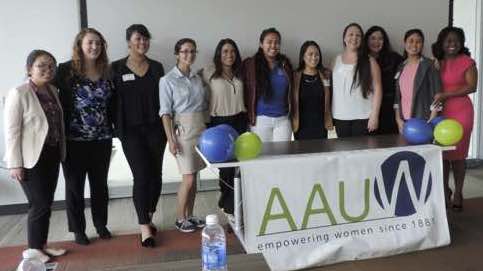 Students benefit from workshops such as Elect Her (how to run for office) and Start Smart (how to negotiate your salary), Campus Project Grants and scholarships to attend the National Conference for College Women Student Leaders (NCCWSL). The Branch's C/U Relations Committee helps to organize AAUW-sponsored campus workshops, facilitates delivery of AAUW resources and opportunities to its local campus partners. The C/U Relations Committee also encourages participation of students, faculty, and staff in mission-focused activities organized by the Branch. Our current College/University partners are San Jose State University, Santa Clara University, Evergreen Valley College, and San Jose City College.
AAUW National Fellowships and Grants
AAUW San Jose participates in the AAUW National fellowship and grant programs. One of the world's largest sources of funding for graduate women, AAUW provided more than $4.3 million in funding for more than 278 fellowships and grants to outstanding women and nonprofit organizations in the 2012-13 academic year. AAUW Funds have a 125 year history, awarding $100 million in grants and fellowships.
AAUW San Jose is proud to have recently completed, with the help of AAUW Branches throughout the State, the San Jose Branch Centennial American Fellowship of $200,000.
Fellowship and grant recipients perform research in a wide range of disciplines and work to improve their schools and communities. Their intellect, dedication, imagination, and effort promise to forge new paths in scholarship, improve the quality of life for all, and tackle the educational and social barriers facing women in the United States and around the globe.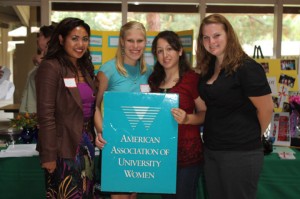 AAUW's six fellowships and grants:
American Fellowships
Career Development Grants
Community Action Grants
International Fellowships
International Project Grants
Selected Professions Fellowships
To learn more, go to AAUW Educational Funding and Awards.